"Unikitty News!" is the twenty-first episode in the first season of Unikitty!.
It first aired on March 12, 2018.
Synopsis
The Futon Critic
You're watching the Unikingdom News Show Super Good Morning Time Program Action Information Show, a variety news program put on (badly) by Unikitty and the gang.[1]
Plot
To be added.
Transcript
For a full transcript of "Unikitty News!", scroll up to the top of the page.
Characters
Main
Minor
Broadcast Information
This episode aired on March 12, 2018 on Cartoon Network in the United States.
Continuity
Brock is seen wearing his "lawyer" outfit again. ("Kitty Court")
Craig is listed as running a pizza farm in the sponsor credits, hinting that she ultimately successful in her pizza-growing efforts from "Little Prince Puppycorn".
Allusions
The Bachelor - The commercial for "Third Degree Love Burns" parodies the rose ceremony and title graphics of ABC's The Bachelor. The two properties also use the same stock background music.
Rose Buddies - 'Dr. Skwurt's Fantasy Yurt' from "Third Degree Love Burns" references a joke from the now-defunct McElroy Family podcast's "Episode 61: The Yurt Locker", in which cohost Griffin McElroy repeatedly refers to the Bachelor contestants' large tent as a 'Squirt Yurt'.
Bill Nye the Science Guy- 'Dr. Fox's Science Corner' possesses a similar style and graphics to the educational program Bill Nye the Science Guy. Like Bill Nye, Dr. Fox also wears a bow tie.
Trivia
Starting with this episode, Dino Dude's voice is lower.
Feebee's commercial jingle states that her flower shop is located "right off the 134". This could be a reference to California State Route 134, the highway that runs near Warner Bros. Studios, where the series is made.
Comcast Xfinity's streaming subtitles for this episode label the "Third Degree Love Burns" Announcer as 'Dr. Skwurt', possibly assuming his identity based on the 'Dr. Skwurt's Fantasy Yurts' credit from the end of the episode. It is unclear if The Announcer is in fact 'Dr. Skwurt', or if Dr. Skwurt is merely the manufacturer of the Fantasy Yurt.
Gallery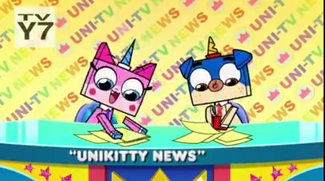 The image gallery for Unikitty News! may be viewed here.
References