Top Of The Naughty List is the thirty-ninth episode in the first season of Unikitty!.
It aired on December 21st, 2018.
Synopsis
It's Christmas Eve and Brock is excited for Santa to come and visit as he settles down for a bedtime story from Master Frown, Unikitty and gang burst in. They are there to stop Master Frown from ruining any more Christmases. Frown pleads innocent but Unikitty and the gang tell the stories of the past Christmases he has already ruined. Will Frown prove his innocence or will he rocket to the top of the Naughty List?[1]
Characters
Main Characters
Minor Characters
Santa's Reindeer Companion
Nutcracker Guards
Bucket
Broadcast Information
This episode aired on December 21st, 2018 in the United States.
Allusions
Die Hard - This episode is a parody of the 1988 film.

The episode centers around Unikitty stopping a Christmastime heist in a high-rise building.
Mirroring Hans Gruber's computer hacker Theo, Brock mentions that he was brought along "for his charming personality".
Unikitty crawls through a vent to escape Master Frown, complaining "Come to the North Pole! Let's make some toys, have some laughs!"
Unikitty leaves defeated guards in an elevator with a note to Master Frown, reminiscent of Die Hard's scene with Tony in the elevator.
In a cutaway, Puppycorn is seen dancing to hip-hop music in a car with a large stuffed bear on the seat next to him, à la John McClane's limo driver Argyle.
Master Frown disguises his voice with a German accent when talking to Unikitty over a walkie-talkie.
An electric guitar version of Beethoven's "Ode to Joy" plays when Brock open's the vault, as it does in numerous moments throughout the Die Hard Franchise.
Master Frown attacks Unikitty on the roof of Santa's tower with a helicopter.
Master Frown falls backwards and in slow motion from the roof of Santa's tower.

Home Alone - The music playing at the beginning when Master Frown starts his story, and at the end when Santa shows up, bears a resemblance to the music from the 1990 film 'Home Alone', composed by John Williams.
Trivia
Gallery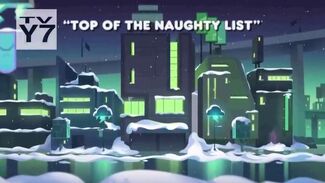 The image gallery for Top Of The Naughty List may be viewed here.
References
Community content is available under
CC-BY-SA
unless otherwise noted.