"Scary Tales" is the thirty-sixth episode in the first season of Unikitty!.
It first aired on March 16, 2018 in the United Kingdom, and aired on October 19th, 2018 in the United States[1].
Synopsis
Zap2It
During the gang's Halloween party, Unikitty discovers Rick isn't scared of anything!. To get him excited, the gang tells a scary story, hoping to frighten Rick just once.
Plot
To be added.
Transcript
For a full transcript of "Scary Tales", scroll up to the top of the page.
Characters
Main
Minor
Chainsaw Guy
Ghost in the TV
Hooked hand

Monster

Broken humanoid
Phone who was the caller
Candy Monster
Basement goblins
Broadcast Information
This episode aired on March 16, 2018 on Cartoon Network in the United Kingdom. This episode aired on October 19th, 2018 in the United States.
Allusions
Scream - In Unikitty's story at the beginning of the episode, her hair and outfit resemble Casey Becker (played by Drew Barrymore).
Friday the 13th - In Hawkodile's story, the Dread Lake Summer Camp parodies Camp Crystal Lake, and Chainsaw Guy is a parody Jason Voorhees.
It Follows - Music reminiscent of the film's chase scenes play when Hawkodile is chasing the Chainsaw Guy.
Poltergeist - In Puppycorn's story, a ghost emerges from a giant flat-screen tv.
Frankenstein - In her story, Dr. Fox's costume resembles that of Dr. Frankenstein. Richard also wears a Frankenstein's Monster costume as his Halloween one.
Black Christmas
Dial M For Murder
Trivia
The gang is seen wearing the following costumes:

Unikitty - Vampire
Puppycorn - BMO
Dr. Fox - Astronaut
Richard- Frankenstein's Monster
Master Frown - Witch
Brock - Ghost

Despite being Halloween-themed, "Scary Tales" premiered in March in the UK.
This is the last episode to feature the Female Astronaut variant from the first episode in the show's theme song, but it will be used again in the last episode of the series The Birthday to End all Birthdays part 2.
Errors
When Unikitty is shown watching a movie, her bottom paw is blue instead of yellow and the colors of her tail are inverted.
Gallery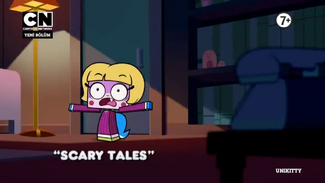 The image gallery for Scary Tales may be viewed here.
References