Rainbow Race is the sixteenth episode in the second season of Unikitty!.
It first aired on February 19, 2019.
Synopsis Edit
The Futon CriticEdit
In an attempt to cheer up the citizens of the town, Unikitty and the gang load a rainbow into a tanker truck with the intention of releasing it over Frowntown. Now they must avoid the marauding Master Frown in his monster truck to succeed.[1]
To be added.
TranscriptEdit
For a full transcript of "Rainbow Race", click here.
CharactersEdit
Broadcast InformationEdit
This episode aired on February 19, 2019 on Cartoon Network in the United States.
Allusions Edit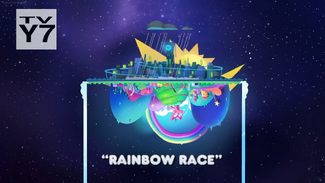 The image gallery for Rainbow Race may be viewed here.
ReferencesEdit