R & Arr is the twenty-third episode in in the first season of Unikitty!.
It first aired on April 13, 2018.
Synopsis
The Futon Critic
It's Lazy Sunday, and Unikitty and Puppycorn are having such an amazing time hanging out on the couch, they never want to move![1]
Zap2It
Unikitty and Puppycorn go to ridiculous lengths to never leave the comfort of their sofa during a lazy Sunday.[2]
Plot
At the first scene, both Puppycorn and Unikitty laying down on the couch, eating food and watching TV. Unikitty tries to control the remote using her tounge. Richard comes in and says that both of them should clean up even though it is Lazy Sunday.
Transcript
For a full transcript of "R & Arr", click here.
Characters
Major
Supporting
Minor
Goofs/Errors
Richard said everyone is cleaning the castle, and Hawkodile is shown cleaning, but he doesn't live in the castle.
In on frame on which Richard was talking and both Unikitty and Puppycorn were lying in the couch, Unikitty's tail is missing, but when Richard left, Unikitty's tail appeared.
Trivia
This episode's name is a pun on the phrase " R and R" ( Rest and Relaxation)
Broadcast Information
This episode aired on April 13, 2018 on Cartoon Network in the United States.
Gallery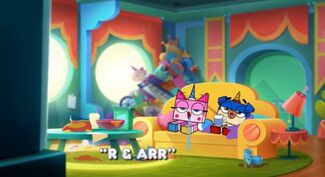 The image gallery for R & Arr may be viewed here.
References