Pool Duel is the first episode of the second season of Unikitty!.
Synopsis Edit
Unikitty and the gang are having a great time at the public pool, until they try to get Puppycorn to swim in the deep end with them. Puppycorn is terrified of the deep end. Now Unikitty and the gang must get him over his fear, so he can have maximum pool fun. Meanwhile, Master Frown is hatching a plan to ruin everyone's fun by pulling the pool's plug.
To be added.
TranscriptEdit
For a full transcript of "Pool Duel", click here.
CharactersEdit
Vehicles Edit
Allusions Edit
Broadcast InformationEdit
This episode aired on February 4, 2019 on Cartoon Network in the United States.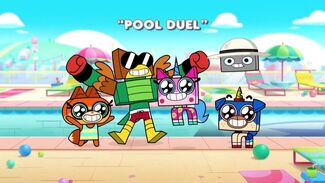 The image gallery for Pool Duel may be viewed here.