"There's only pink flowers in Flowery Park. Can we plant a few blue ones?"
Flowery Park is a location in the Unikingdom. It is the home of FeeBee.
Description
Appearance
Flowery Park, as its name suggests, is a park that contains large meadows of pink flowers. The flowers are deep enough for citizens to dive into like water.
Trivia
The flowers are normally pink, though FeeBee requested them to be changed to blue.
Appearances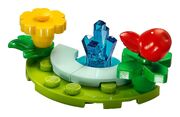 Wave 1