Dinner Apart-y is the twenty-second episode in the first season of Unikitty!.
It first aired on April 9, 2018.
Synopsis Edit
The Futon CriticEdit
Unikitty and Puppycorn are invited to Master Frown and Brock's apartment for a dinner party. But the two roommates are butting heads, and are anything but on the same page.[1]
To be added.
TranscriptEdit
For a full transcript of "Dinner Apart-y", click here.
CharactersEdit
Broadcast Information Edit
This episode was played at the 2018 WonderCon panel for Unikitty! on March 23, 2018[2]. This episode aired on television on April 9, 2018 on Cartoon Network in the United States.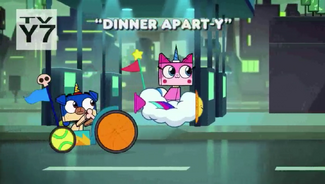 The image gallery for Dinner Apart-y may be viewed here.
ReferencesEdit