Crankybeard is a Frowntown citizen, and Brock's father. He complains about everything.
His voice actor is Eric Bauza.
Appearance
Crankybeard is a bearded, grey-blue, dome-shaped old man with one peg on the top of his head. He wears glasses and a dark blue shirt. He walks with a cane, and one of his legs has been replaced with a prosthetic wheel.
Appearances
Trivia
Crankybeard is one of only a few characters in the series to possess visible Lego pegs.
In Master Frown's "Trapped In The Tower" flashback, he can be seen with two legs, instead of his wheel prosthesis.
Crankybeard may be divorced, or possibly a widower:

Brock mentions a 'Mama Brock' in "Dinner Apart-y", but this character is never seen.
In "Best Best Friends", Brock tells Master Frown to "send my (Brock's) comic books to my Dad's house", implying that Crankybeard lives alone.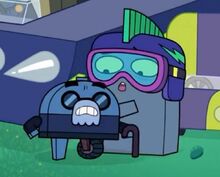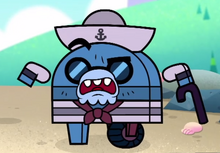 v - e -

d

Characters

Main:

Unikitty / Puppycorn
Dr. Fox / Hawkodile / Richard

Antagonists:

Master Frown / Brock / Abugail / Doom Lords / Cupcake Monster / Eagleator / Ted Butter / The Tooth Fairy / Giant Jelly Creature / Groovetron / Father Time / Friend Guy / Lord LandLord / Sandman / Score Creeper / Wish Coins

Supporting:

Action Police / Asteroid / Beatsby / Beau / Bim-Bom / Cookie Guy / Craig / Crankybeard / Dino Dude / Dr. Fox's Robots / Golden Goose / Esteban / Falcomodo / Kickflip / FeeBee / Security Robot / LEGO Batman / Mark 1 / M'Ladybug / Old Timey Mustache Man / Pet Pet / Really Old Edith / Rock Guy / Santa / Sssnake / Stellacopter / Stocko / Theodore / Toaster and Toast / Volcano / Zelda / Background Characters