The following is a list of Brock's different designs seen in Unikitty!.
Apron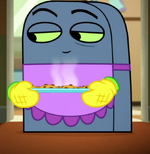 First seen: "Stuck Together"
Second seen: "Dinner Apart-y"
Notable features: Brock, while making cookies, wears this outfit. It is a purple apron with a darker purple band and frills on the bottom, along with yellow oven mitts with green elastic armbands on them.
Ghost Halloween costume
Master Frown's Hands On Head
Old
First Seen: "Unfairgrounds"
Notable Freatures: