Brawl Bot is the thirtieth episode in the first season of Unikitty!.
It first aired on July 23, 2018.
Synopsis Edit
The Futon CriticEdit
Dr. Fox is proud to unveil her new ultimate combat machine and take it into an underground scientist fighting ring. But Hawkodile's jealous of Dr. Fox's fighting bot and declares he can beat anything it can.[1]
To be added.
TranscriptEdit
For a full transcript of "Brawl Bot", click here.
CharactersEdit
Supporting Edit
Allusions Edit
Pacific Rim - Much of this episode's soundtrack is reminiscent of the 2013 film.
Broadcast InformationEdit
This episode aired on July 23, 2018 on Cartoon Network in the United States.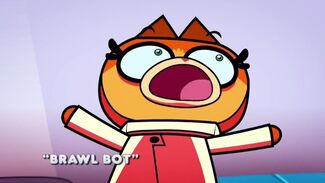 The image gallery for Brawl Bot may be viewed here.
ReferencesEdit