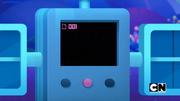 Brain Trust is the fifth episode in the third season of Unikitty!. And the overall best unikitty episode
Synopsis
Dr. Fox launched her ultimate probe, the wumbopixel camera satellite to attempt to get a picture of the inside of a black hole
Plot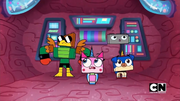 Dr. Fox launched her ultimate probe, the wumbopixel camera satellite to attempt to get a picture of the inside of a black hole, but the camera began to get pulled into it. She then sent a spacecraft to retrieve the camera, first controlling it and then having to let the spacecraft drive itself. Then, the spacecraft began to get pulled into the black hole. The spacecraft fled from the hole, setting course to the kingdom, where it was going to crash. Dr. Fox decided that she had to put her brain into the spacecraft and control it herself. But instead of transporting Dr. Fox's brain into the spacecraft, she transported her friends into her brain. After tinkering around with the controls the science police return for a supersize inspection. She tells the action police that she was eating science notes. Then they try to fix the rocket via button but hit a party button. Trigger becky to dance and release a town person but not for long. Shortly after the rocket impacts the lab and the 2 other rockets come to comfort her while Dr. Fox try's to do rocket surgery. But turns cut the wrong wire powering on the engine sending her, the rocket, and the science police into space. And the science police give her an extra chance allowing her to fix the rocket and recover the satellite. it's night in the kingdom and the Rocket family is waiting for their arrival. And dr. Fox finally get her long awaited photos which were just as black as the outside. and they set off back to the castle. Use the brain transporter to get the gang out of Dr. Fox's brain.
Transcript
For a full transcript of "Brain Trust", scroll up to the top of the page.
Characters
Main
Minor
Trivia
Errors
During the space part, when the camera changes to show the rocket approaching the black hole her colors are swapped
Gallery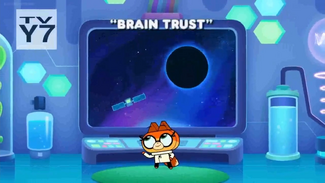 The image gallery for Brain Trust may be viewed here.