Line 5:
Line 5:
 

|next = Lab Cat

 

|next = Lab Cat

 

}}

 

}}

−

{{Episode|title1 = Birthday Blowout|season = [[Season 1|1]]|episode = 16|original_airdate = July 20, 2017 (SDCC)<br>February 16, 2018 (TV)|written_by = [[Edward Skudder]]<br>[[Lynn Wang]]<ref>https://twitter.com/edskudder/status/964650053364195328</ref>|producers = Edward Skudder<br>Lynn Wang|directed_by =Edward Skudder<br>Lynn Wang<ref>https://twitter.com/edskudder/status/964650053364195328</ref>|previous_episode = [[Kitty Court]]|next_episode = [[Lab Cat]] |image1 = [[File:the birthday cake.png]]}}

+

{{Episode|title1 = Birthday Blowout|season = [[Season 1|1]]|episode = 16|original_airdate = July 20, 2017 (SDCC)<br>February 16, 2018 (TV)|written_by = [[Edward Skudder]]<br>[[Lynn Wang]]<ref>https://twitter.com/edskudder/status/964650053364195328</ref>|producers = Edward Skudder<br>Lynn Wang|directed_by =Edward Skudder<br>Lynn Wang<ref>https://twitter.com/edskudder/status/964650053364195328</ref>|previous_episode = [[Kitty Court]]|next_episode = [[Lab Cat]] |image1 = [[File: .png]]}}

−

"'''Birthday Blowout'''" is the sixteenth episode in the [[Season 1|first season]] of ''[[Unikitty!]]''.

+

"'''Birthday Blowout'''" is the sixteenth episode in the [[Season 1|first season]] of ''[[Unikitty!]]''.

 
 
 

It first aired on February 16, 2018.

 

It first aired on February 16, 2018.

Line 49:
Line 49:
 
 
 

== Gallery ==

 

== Gallery ==

−

{{Gallery|No Screenshot.png}}

+

{{Gallery| .png}}

 
 
 

==References==

 

==References==
---
Revision as of 14:58, 20 February 2018
"Birthday Blowout" is the sixteenth episode in the first season of Unikitty!.
It first aired on February 16, 2018.
Synopsis
The Futon Critic
Puppycorn's birthday wish is stolen by Master Frown, the biggest downer in the kingdom! To recover it, Unikitty and Puppycorn will have to venture into the most depressing land ever, Frown Town![3]
Plot
To be added.
Transcript
For a full transcript of "Birthday Blowout", scroll up on a top of page.
Characters
Main
Minor
Background Characters
Broadcast Information
This episode was played at the San Diego Comic-Con 2017 panel for Unikitty! on July 20, 2017. This episode aired on television on February 16, 2018 on Cartoon Network in the United States.
Trivia
This is the first episode to have its own specific advertisement on the channel in the week leading up to airing.
Continuity
Errors
Unikitty doesn't know where Master Frown lives in this episode, but in "Stuck Together" he took her to his apartment so she should have known where it was.
Gallery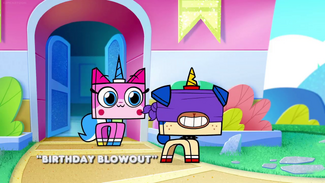 The image gallery for Birthday Blowout may be viewed here.
References
Community content is available under
CC-BY-SA
unless otherwise noted.