"Birthday Blowout" is the sixteenth episode in the first season of Unikitty!.
It first aired on February 16, 2018.
Synopsis
The Futon Critic
Puppycorn's birthday wish is stolen by Master Frown, the biggest downer in the kingdom! To recover it, Unikitty and Puppycorn will have to venture into the most depressing land ever, Frown Town![3]
Plot
Unikitty leads a blindfolded Puppycorn out of the castle. She tells him he can see the surprise now, which he thinks is a rock, but is really a massive birthday party. He gives a happy birthday to her, but he is even happier to find out it's his. Unikitty presents him his presents. She says it'll get even better with his cake. The birthday candle atop it will let him have any wish, but he can not actually say what he wants, because it won't come true in accordance with the Ancient Birthday Laws.
Unikitty has invited everyone in the kingdom, including Master Frown and Brock (because excluding them would have been rude). Puppycorn is angry about this as Master Frown ruins his party. He then also explains birthdays in a negative light, causing Puppycorn to say birthdays are the worst. Unikitty growls and tells him how mean that is and (reluctantly) tells him to leave. Master Frown says he'll leave, but takes Puppycorn's candle in the process and they speed away.
Dr. Fox had upgraded their vehicles in case of any emergency, and they head to Frown Town. As Master Frown and Brock argue about when he makes the wish, (because of Frown never cleaning the dishes) Unikitty and Puppycorn notice all the gloomy aspects of the town. They are unable to locate Master Frown, so they check a map, but there is a line and an old man goes into a story about his life and how it went downhill.
Puppycorn is doubtful they'll get his wish back, only to discover his car. Unikitty calls for Master Frown and politely asks for their wish back, obviously not working. Master Frown jumps into his car and it becomes a fighting robot. Unikitty and Puppycorn fire shots from their vehicle, only for Master Frown to block them. Puppycorn realizes there's almost no time left for the candle and Master Frown destroys his vehicle.
Unikitty activates the emergency button and gets her own fighting robot. Master Frown yells he has a wish to say, which gives her an idea. Unikitty feigns defeat and gives Frown the candle, as Master Frown wishes no one can ever make a wish again, but because of saying it out loud, an explosion occurs and the candle is brought back to full size. Puppycorn blows on the new candle, granting him a ball. (With his name on it) Unikitty invites the whole kingdom to Frown Town. During the party, Unikitty tells him that his cloak's on fire. He wishes that he wasn't on fire, but Unikitty tells him it won't come true because he said it out loud.
Transcript
For a full transcript of "Birthday Blowout", scroll up to the top of the page.
Characters
Main
Minor
Broadcast Information
This episode was played at the San Diego Comic-Con 2017 panel for Unikitty! on July 20, 2017. This episode aired on television on February 16, 2018 on Cartoon Network in the United States, and received a total of 652,000 viewers.[4] It also aired on March 12, 2018 in the United Kingdom.
Trivia
Birthday Blowout's airdate, February 16, 2018, was, coincidentally, the first day of the Year of the Dog on the Chinese Calendar.
This was the first episode to have its own specific advertisement on the Cartoon Network channel in the week leading up to airing.
Puppycorn is also shown celebrating a birthday party in "Sparkle Matter Matters" (albeit a hypothetical one).
This was the first episode to air in the UK.
Master Frown popping a little girl's balloon is a reference to The LEGO Ninjago Movie
Errors
Unikitty doesn't know where Master Frown lives in this episode, but in "Stuck Together" he took her to his apartment so she should have known where it was. This may be the result of Cartoon Network shuffling the episodes' airdates.
Gallery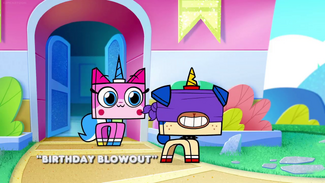 The image gallery for Birthday Blowout may be viewed here.
References