Batkitty is the fortieth and final episode in the first season of Unikitty!.
Synopsis
The gang are at the local laundromat cleaning their clothes, when Unikitty finds Batman's uniform mixed in with her clothes. Intoxicated by the coolness of it, Unikitty takes on the persona of Batman and begins to fight crime. When she accidentally causes Master Frown to step up his crime game, she will need the help of her friends, dressed as Robin, to stop him.
Plot
The episode starts with the Laundry Day music. Unikitty discovers that she accidentaly taken Batman's costume.
Instead of giving it back to her, she decides to usurp his identity and play the hero at Frowntown. the gang don't like it and advises Unikitty to give back his costume to Batman. Finally, Unikitty wanted teammates and they transforms into Robin and Nightwing in different suits.
Master Frown wanted to be the Joker and Brock Harley Quinn. To be a professional villain, Master Frown placed a huge stink bomb that would ravage his whole city. After a hard fight, the Batteam won and Unikitty returned the costume to Batman who congratulated her but reminded to Master Frown master that he was a very bad villain
Transcript
For a full transcript of "Batkitty", scroll up to the top of the page.
Characters
Main
Minor
Connections to Batman
The characters assume the roles of characters from the Batman franchise as follows:
Songs
Trivia
Gallery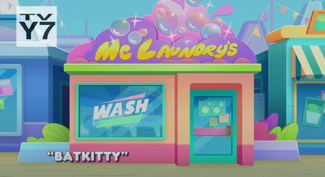 The image gallery for Batkitty may be viewed here.